Sales & Marketing
·
NAPA Japan
·
Hybrid Remote
セールスマネージャー / Sales Manager
The role and your NAPA family
The NAPA team is growing, and we are looking for a high-performing Sales Manager for our Sales Team in Japan to help us meet our customer and revenue growth targets. You will be responsible for maximizing our sales team's potential, setting up and executing your sales plans, and, most importantly, supporting our company in staying competitive and innovative.
NAPA Shipping Solutions business entity develops and delivers solutions for performance monitoring and voyage optimization of ocean-going merchant vessels. In this role, you would be taking sales to the next level, leading business growth together with our experienced sales team, and cooperating with the services team.
You will have colleagues and customers from many countries, so this role is truly global with a meaningful purpose. Safety, fuel economy, and eco-efficiency are core challenges for today's ship owners, operators, and charterers. Optimizing ship efficiency and minimizing risks can make a difference in today's marketplace, and you could help us make this happen.
Learn more about our solutions: https://www.napa.fi/software-and-services/ship-operations


職務
The main tasks and responsibilities are:
日本国内市場において、設定された個人売上目標の達成
Meet the personal sales targets as established within the identified market in Japan
売上目標を達成するための、売上予算の作成・実行
Generate sales budgets and execute them to achieve the sales targets of the region
製品プレゼンテーション・提案書・契約書の作成、契約交渉の遂行
Prepare sales presentations, proposals, and contracts and lead contract negotiations
学会やイベントでの公開プレゼンテーションや基調講演の実施
Conduct public presentations and keynote speaking in conferences and events
新製品の立ち上げや新しいマーケティング業務への参加
Participate in new product launches and new marketing initiatives
特定地域におけるプロモーションおよび販売活動の計画・実行
Plan and execute the promotion and sales activities in a specified region
アカウントプランの作成と実行
Prepare and execute account plans
プロダクトマネージメント、製品開発、サービスオペレーションへの協力とフィードバック
Cooperate and provide feedback to product management, product development, and services operations

このポジションは出張を伴います。また勤務地は当社オフィスがある神戸となります(リモート等は応相談)。
This position requires traveling. Our office is located in Kobe, Japan. You can work at the office or in hybrid mode (negotiable).

As a member of the international sales team, you will work with colleagues from Asia and Europe, provide feedback to development and product owners, and, most importantly, meet potential customers.
Did we already tell you that we have long-lasting customer relationships? Some of our customers have been on the journey with us for over three decades and can be considered part of the NAPA family.
You can learn more about our customers here: https://www.napa.fi/software-and-services/ship-operations/napa-fleet-intelligence/shipping-customer-stories/


The salesperson we are looking for
You are a Sales Manager with a passion for selling and learning new skills, and you are interested in joining an international sales team. Performance monitoring, weather routing, and digital twin are some of the buzzwords that excite you! It would be the perfect addition to your professional background if you had prior experience and knowledge in digital vessel optimization technologies.


要求事項
We hope you meet most of these requirements to succeed in this role:
3年以上の営業またはアカウントマネージメントの経験
Minimum of 3 years of experience in sales or account management
海運・舶用業界での知識
Domain (maritime) experience / knowledge
海運・舶用業界での営業経験・実績(特にITデジタル・グリーンテクノロジー分野に精通している方)
Experience and proven track record of sales within the maritime industry, preferably in digital and green technologies
顧客のニーズに基づき、顧客志向のソリューションを提供した経験
Prior experience in delivering client-focused solutions based on customer needs
自発的に行動し結果を重視できる方
Self-motivated and results-oriented team player
工学または経済学の学士や修士などの教育を受けている方
Hold a relevant education, such as B.Sc or M.Sc. in Engineering or Economics.
日本語(ネイティブレベル)、及び英語のコミュニケーションスキル
Fluency in Japanese and English
If you think you could be a good addition to our sales team, go on reading, and don't hesitate to apply!


NAPA as an employer
Meaningful work
We are proud to play our part in creating a sustainable world, and a career at NAPA means working with a purpose. We focus on building the best possible products for our customers, with whom we have close and long-lasting relationships. We protect the environment and human life at sea by powering safer and greener vessels with our technology.
NAPA way of working
We are a self-managed organization. Everyone is here to help and guide each other, but you're your own boss. The core of our self-management philosophy is trust. We trust our employees to make the right decisions and take care of their personal growth. We provide several opportunities for that, and everyone can manage their own working time. You can work at the office, from home or even while abroad.
Enjoy working together
...is one of our core values. Learning from and respecting each other provides a healthy and pleasant working environment. We, as NAPArians, share our knowledge and help each other when needed. NAPA has offices and customers around the world, and you will be able to meet people from many different cultures. We are a diverse family with a shared goal.
Read more about our values and culture: https://www.napa.fi/careers/

Ready to get on board and join the NAPA crew?
We kindly ask You to send your application and CV to us as soon as possible, as the position will be filled once a suitable candidate has been found.
For more information about the position, please contact Emi Nakayama by e-mail: Emi.Nakayama@napa.fi

In its over 30 years of operation, NAPA has become a global leader in developing and scaling software, services, and data analysis for a safer, smarter, and more sustainable maritime industry. Headquartered in Finland, NAPA employs 200 people in the fields of naval architecture, shipping and information technology, operating globally in eleven countries in Europe, Asia and the Americas.
NAPA software is used by shipyards, ship owners, designers, classification societies, research institutes, authorities and consultancies around the world. To date, NAPA has 420 user organizations for its design solutions, nearly 3,000 installations onboard vessels and a growing number of subscribers for its cloud-based fleet services.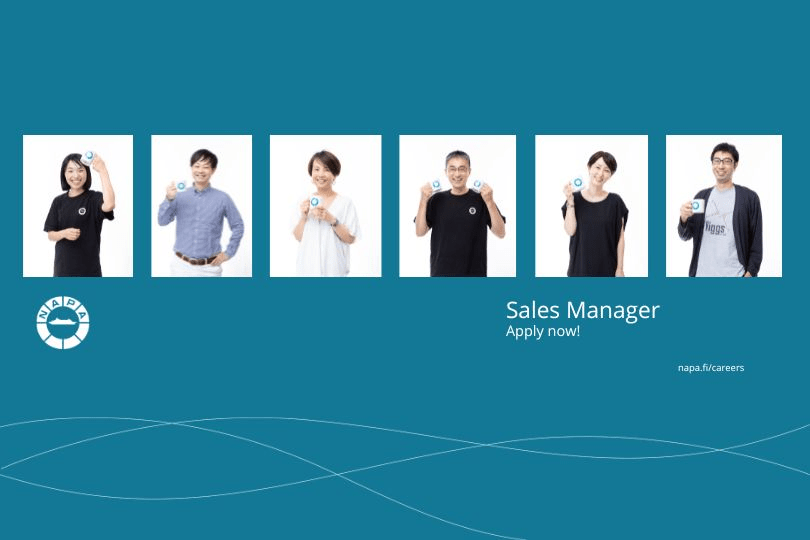 Functions

Sales & Marketing

Role

Sales Manager / Director of Sales

Locations

NAPA Japan

Remote status

Hybrid Remote

Employment type

Full-time

Job ID

2281
Sales & Marketing
·
NAPA Japan
·
Hybrid Remote
セールスマネージャー / Sales Manager
Loading application form
Already working at NAPA?
Let's recruit together and find your next colleague.