Software development
·
NAPA Finland
·
Hybrid Remote
Software Developer, Computational Geometry
Are you a strong Mathematical Engineer with a passion for pushing boundaries in Software Development? Ready to set sail with an industry leading Ship Design application? We are seeking a Software Developer with expertise in Computational Geometry to navigate new waters of innovation!
The precision and accuracy of a ship's geometry are crucial for its design, classification, operation, and emergency response. At NAPA, we understand the importance of ship geometry and have created cutting-edge software that provides industry-leading calculation precision for ship design and safer maritime operations.
We are currently seeking a talented individual to play a central role in the development of our cutting-edge NAPA geometry core. Our Agile Software Development team is a diverse and dynamic group of professionals with a wide range of expertise. As a member of our team, you will work closely together with naval architects, developers, UX designers, product owners, and other stakeholders to design, develop, and implement high-quality software solutions. In this math-intensive role you will have the opportunity to work on complex projects, solve challenging computational geometry problems, and contribute to the growth and success of our company.
Responsibilities in this role:
Lead maintenance and development of our geometry Kernel
Modernize the kernel by implementing innovative solutions
Collaborate with other developers to design and develop modeling tools.
Provide expert guidance for development direction
Monitor and evaluate performance of the geometry Kernel
Our ideal candidate would have:
Master's/Doctoral degree in Computer Science, Mathematics, Physics or related fields.
Strong problem-solving skills, ability to apply math and technical concepts to solve complex problems.
Deep understanding of geometric algorithms and computer graphics.
Experience in 3D modelling and analysis, with ability to lead and collaborate with other developers.
Proficient in native and managed programming languages with strong software development skills.
Excellent collaboration, written and verbal communication skills, with ability to convey technical concepts concisely.
Ability to work independently, take ownership of projects and take leadership.
These differentiate you from other candidates:
Experience in the industry working in CAD or 3D modeling software company
Experience in developing software using native programming languages such as Fortran or C++
This job is full-time and permanent and you can work at our office in Ruoholahti, Helsinki, Finland, remote (if you are based in Finland) or in hybrid mode. Our company language at NAPA is English, so you also need excellent written and oral English skills.
NAPA as an employer
Meaningful work
We are proud to play our part in creating a sustainable world, and a career at NAPA means working with a purpose. We focus on building the best possible products for our customers, with whom we have close and long-lasting relationships. We protect the environment and human life at sea by powering safer and greener vessels with our technology.
NAPA way of working
We are a self-managed organization. Everyone is here to help and guide each other, but you're your own boss. The core of our self-management philosophy is trust. We trust our employees to make the right decisions and take care of their personal growth. We provide several opportunities for that, and everyone can manage their own working time. You can work at the office, from home or even while abroad.
Enjoy working together
...is one of our core values. Learning from and respecting each other provides a healthy and pleasant working environment. We, as NAPArians, share our knowledge and help each other when needed. NAPA has offices and customers around the world, and you will be able to meet people from many different cultures. We are a diverse family with a shared goal.
Here you can read more about our values and culture: https://www.napa.fi/careers/ ;
Ready to get on board and join the NAPA crew?
We kindly ask You to send your application and CV to us as soon as possible as the position will be filled once a suitable candidate has been found.
For more information about the position, please contact Antti Kujala by telephone: +358405906915 or by e-mail: antti.kujala@napa.fi
In its over 30 years of operation, NAPA has become a global leader in developing and scaling software, services, and data analysis for a safer, smarter, and more sustainable maritime industry. NAPA operates globally, with 190 employees in ten countries in Europe, Asia and the Americas. To date, NAPA has 420 user organizations for its design solutions, nearly 3,000 installations onboard vessels and a growing number of subscribers for its cloud-based fleet services.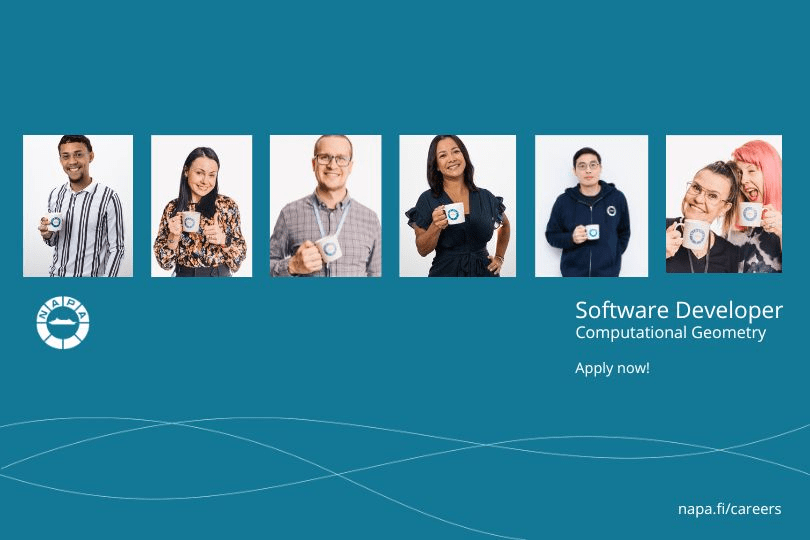 Functions

Software development

Role

Software Developer

Locations

NAPA Finland

Remote status

Hybrid Remote

Employment type

Full-time

Job ID

2334
Software development
·
NAPA Finland
·
Hybrid Remote
Software Developer, Computational Geometry
Loading application form
Already working at NAPA?
Let's recruit together and find your next colleague.